The Toy Story news keeps on coming, as we draw closer to Toy Story Land's opening on June 30 and the one-year mark for Toy Story 4 in just a few months.  So here's the latest roundup of updates – most of them exciting, one unfortunately sad…
Woody Arrives in Toy Story Land
Yesterday the marquee was installed at the entrance to Toy Story Land at Disney's Hollywood Studios, and today the Woody figure was added, which will greet guests as they approach the new land.  Photos were shared online via a post on the Disney Parks Blog…
Woody wasn't holding his lasso yet when these photos were taken, but Twitter reports from the park state that he is now standing with a looped rope hanging from his left hand.  The opposite end of Toy Story Land will feature a giant Buzz statue as well, near the entrance of the Alien Swirling Saucers ride.  It seems like construction is closer to completion at Woody's end of the land, but things are still moving along nicely overall.  With just 67 days to go, we should see even more rapid progress in the coming weeks.
---
Toy Story Playtime
While we're on the subject of Toy Story Land, be sure to visit toystoryplaytime.com and check out the new games inspired by the land, that were just launched this week!  "Trivia Mania" is my personal favorite…
The questions start easy and increase in difficulty as the game goes on.  I love that this is considered an "easy" question – Buzz and Jessie are obviously in love, y'all.
"Slinky Dog Stretch" and "The Claw Challenge" reference the new Slinky Dog Dash and Alien Swirling Saucers rides.  With Slinky, you have to collect toys before his back end catches up…
 … and collect Aliens (or Buzz) with the claaawww… but don't grab Zurg!
Play along and share your favorite game in the comments!
---
'Toy Story 4' Easter Egg in 'Incredibles 2'

BuzzFeed recently shared an article in which they discussed the Easter eggs to be found in Incredibles 2 with the film's sets supervisor, Nathan Fariss.  In it, he confirmed that – as expected – there will be an Easter egg for Toy Story 4, but we won't likely recognize it when we see it:
"It probably won't make any sense until Toy Story 4 comes out," Fariss explained.  "I didn't even know anything about it before.  You might see it and go, 'What the heck is that?' And then move on."
Pixar always includes an Easter egg for their next release in their current film.  If you look back to Up, which was released before Toy Story 3, nobody realized that the pink teddy bear visible in an apartment the house floated past would become Lotso, so it really could be just about anything.  The only way I could possibly spot it is if it was one of the new characters shown during the D23 animation panel presentation last summer.  I know I'll be going crazy wondering and searching for any little Toy Story 4 clue, when I watch Incredibles 2 this summer.  And I'm still hoping we'll get a teaser trailer!
---
Saluting Sarge
The Toy Story family has been hit with several losses in the past year.  Don Rickles, the voice of Mr. Potato Head, passed away in April 2017, leaving (still unanswered) questions about his role, and whether he would be written out of the sequel, or re-cast as Slinky Dog had been after the passing of Jim Varney.
Last month, Pixar lost Bud Luckey as well, the director of the short Boundin' who was also well-known as both the designer of Woody in the first Toy Story movie and the voice of Chuckles in Toy Story 3 and Hawaiian Vacation.  Luckey served as an animator, character designer, and storyboard artist throughout his time at Pixar, and although he had retired some years prior, it's still a sad loss of someone who played an integral role in the creation of the Toy Story franchise.  In regards to Toy Story 4, I would imagine that, as Bonnie's toy, Chuckles probably was set to make an appearance, unless Luckey's health had made him unable to do any recording (his role as Rick Dicker in Incredibles 2 had already been recast).  Perhaps Chuckles will still be a silent presence in the room, out of respect.
Then, on April 15, 2018 R. Lee Ermey, the voice of Sarge, leader of the Green Army Men, passed away at age 74.  Most famous for his role in Full Metal Jacket, he had a full career of mostly military-related roles on film and television.  Several Pixarians paid their respects on Twitter:
At the end of Toy Story 3, we saw Sarge and his troops arriving at Sunnyside Daycare by parachute.  We haven't seen him since then, in any of the shorts or specials, so it's unknown if he was supposed to appear in Toy Story 4.  However, as animation has likely already begun on the film, it's also possible that if he did have a role, it's already been recorded.  Just like the other characters mentioned, we'll have to wait and see what decision the filmmakers made in these situations.  I'm sure they want to do right by all of these characters, and the actors who portrayed them.
Farewell, Sarge.  It's been an honor serving with you.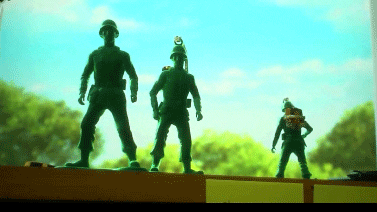 ---
… and Beyond!
To end on a happier note, here's another fantastic Toy Story Land aerial by @bioreconstruct on Twitter.  In it you can see that some of the artistic detail is being added on surfaces, such as the open book at Woody's Lunch Box where Jessie is visible.
As always, stay tuned for more updates!  I'll be sure to share as new details about the land and movie are released.
Park photos © Disney Parks.  Toy Story film and game images © Disney/Pixar.  R. Lee Ermey image from his official Twitter account.